New sync service to unite iOS, Mac, Android and Windows 10 devices is coming soon
By Andy on Thursday, Oct 18, 2018
The new Money Pro sync service will allow to sync data between iOS, Mac, Android and Windows 10 platforms. This service will replace Family Cloud Sync and will allow you to share data with your friends and family.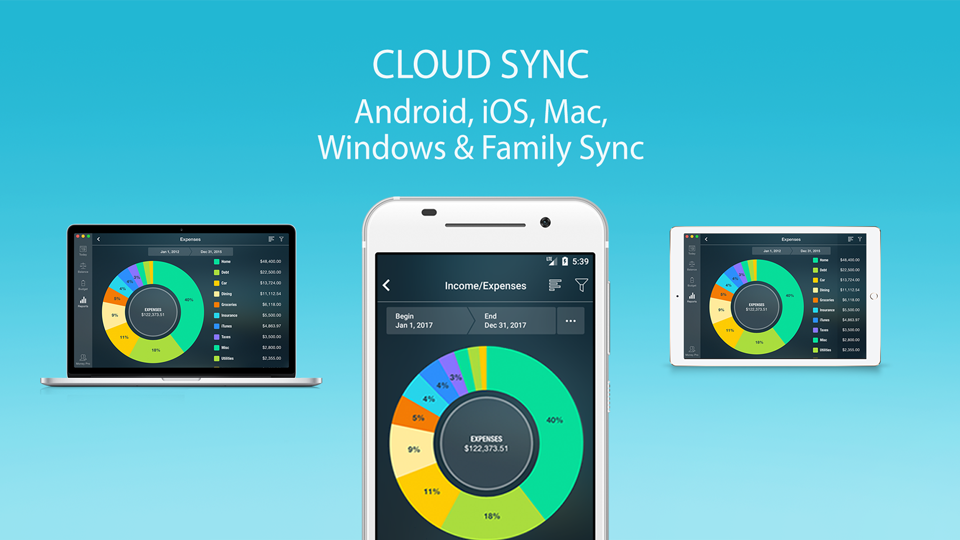 New Sync. Money Pro sync enables users to share data between devices on and across multiple platforms, and among other users. When you turn on Money Pro sync on your device, Money Pro will copy your local app data to your Money Pro account. Information stored in Money Pro account is encrypted at rest and is transmitted over an encrypted SSL connection. You can share access to your profile data with other users by sharing invitation codes.
iCloud vs New Sync. iCloud sync works great for Apple ecosystem of iOS and Mac devices with the same iCloud ID. It does not require setting up any account, and it is free. The new sync will allow to sync data between different platforms. It will require you to set up Money Pro account with us.
Family Cloud Sync. Family Cloud Sync was implemented to sync data between several users. The new sync can do the same but on multiple platforms. The customers with active Family Cloud Sync subscriptions will be able to use the new sync service for free.
Fees. The service will be provided for a small monthly fee. iCloud sync will remain free, and will allow you to sync data between iOS and Mac devices.
Current Status. Launch date has not been finalized yet. If all goes well, we will have the service available for public in November for iOS, Mac and Android. Later this year, Money Pro for Windows will get the new sync feature as well.
Make sure to follow us on Facebook, Twitter, and Instagram to stay updated.