Quick Start Guide

BALANCE

Start using the app with adding payment accounts (debit/credit cards, bank accounts, cash) in the "BALANCE" tab. The "Balance" tab will contain a list of all your payment accounts, assets and liabilities. Blue means money. Yellow stands for debt. Also, you'll find there a list of transactions for each account for the selected month.
Open the "Balance" tab;
Tap/click "Edit" > "Add";
Choose "payment account";
Enter the account name and balance, pick one of the many icons and set a currency for this particular account;
Save your choice;
tap/click "Done".
There's one important issue you should be aware of. For your convenience every payment account can have its own currency. Make sure to set proper currencies for EACH PAYMENT ACCOUNT SEPARATELY. Later on you will add transactions in the currency of the account the transaction is assigned to.
Tap/click the account you've created, and in the opened form you'll be able to add transactions assigned to this account (press "+").
TODAY
Open the "TODAY" tab – it displays today's transactions and lets you quickly move between days and months. Here you can easily add new transactions.
To add a transaction, tap the "+" icon in the right upper corner. The app will let you choose a category for your expense (for setting a different transaction type - income, money transfer, etc. - tap "Expense" at the top of the form). There are a number of categories both for expenses and incomes. You can create and edit the categories yourself. Some categories can include smaller subcategories.
Imagine you went shopping for food today. Choose the category "Groceries". The window now lets you choose your payment account and enter the amount.
Now try tapping the "Paid" field. You will find two additional lines for scheduling your transaction for the future: "Automatic" and "Repeat". Set the frequency with which the transaction will be repeated, and check "Automatic" for the transaction to be created on the dates you've chosen (if you leave "Automatic" unchecked, you'll have to confirm the transaction by hand). Also, check the date when you want to finish repeating the transaction ("End Repeat" field). This feature is necessary for recurring BILLS such as mortgage, car loan, health insurance, etc.
Don't forget to set up notification option for your planned transactions:
on iOS devices, go to More > Settings > Advanced > Notify,
for Mac open the Main Menu > Money Pro > Preferences > Notify
Specify when you want to be notified (1 day before, on the due date, etc.).You will receive the notification on the specified day. Moreover, every time you turn on your device, on the app's icon you'll find the number of the planned transactions that are overdue.
You can input transactions manually or by importing .ofx or .csv files provided by your bank.
BUDGET
Open your "BUDGET" tab. Here you can set up a budget for each expense separately. If you know what your expenses should be, do it right away, if not, wait for a while and analyze your actual expenditures. Think out the structure of your budget too. It should be convenient to use later on.
The main currency for BUDGETING and REPORTS can be chosen in the settings "More" (for Mac go to Menu > Money Pro > Preferences > Currency). Presently the budget and all the reports are displayed in the default currency.
If you've set up your budget, use this tab to view your income and expenses for a selected period. The menu at the top of the screen will help you see your budget by day, week, month, etc. You can look at either a total of income and expenses, or single one of them out by category. The yellow color represents actual expenses, blue stands for actual income, gray displays your planned transactions. The widget in the upper part of the screen helps compare your gain/loss during a few time periods. Also, it shows how close your actual gain was to the gain you planned.
REPORTS
The "REPORTS" tab allows you to analyze your financial situation at any given period. You can see the correlation between income and expenses, a projection of your balance based on your planned income and expenses, your net worth, a list of all transaction one by one, etc. You can also filter this data by account, category, transaction type and so on.
Online Banking instructions
Online-Banking allows to connect Money Pro to your bank for automatic sync of your transactions which will significantly reduce your manual entries.
Open the Balance tab, tap "Edit" > "Add" > "Online Banking". The app will offer you to activate Money Pro Gold subscription (if you haven't done it before) which provides Online-Banking service. If you want to connect to Online-Banking an account that already exists in the app open the editing form of the account and tap "Connect Bank Account".
Are your banks on the list of the supported banks of Money Pro? Most probably, yes. Before you buy Money Pro Gold subscription please tap the title "Check if your bank is supported". In the opened window start entering names of the banks you need to check if they are on the list.
After you activate the subscription the app will offer you to select a bank and connect to it. For making a connection you are to enter the authorization data you use for linking the Bank's Dashboard. With security purpose Money Pro will not learn the authorization data so you need to enter it every time you want to connect the bank.
After the connection with the bank Money Pro will display all the accounts you possess in this bank and will offer to add them into the app. Once you add them they will appear in the Balance tab. Along with the accounts Money Pro will download all the transactions made for the last 2 months.
The last transactions for a specific time period (depending on each bank individually) will be downloaded with delay. However, the total account balance amount will be synced instantaneously and Money Pro will display your current account balance in the bank. During the period when the delayed transactions will be missing in the app you will see such a line "In processing $100". It means that the transactions with the total amount of $100 have not been downloaded to the app yet. If you are confident that all the transactions have been already synced but for some reason the line "In processing" is still there it might mean that there are double transactions or transactions appeared in the app by mistake. In this case please look through all the downloaded transactions and make the needed corrections manually. Then the next time you update your data with Online Banking the line «In processing» will contain the correct figure (or will disappear).
Money Pro will automatically categorize the downloaded transactions. However it might be impossible for some of the transactions synced due to the lack of information from the bank. Once you open the Balance tab tap the synced account to look through the transactions list. Uncategorized transactions will be marked with a question mark. Tap it and select a category. In future Money Pro will predict categories more accurately using patterns based on your previous actions.
If your bank account requires multi-factor authentication (f.e. it requires SMS-code) be aware that with each updating the bank might require your personal interference: for instance repeated code entry. Usually multilevel authorization can be turned on/off in the Dashboard settings.
If you use iCloud sync among several devices and want Online-Banking to be connected to each of them please go to your iCloud account settings and turn on the option "iCloud Keychain". It's necessary so that Money Pro could transmit the bank connection to all of your devices. If iCloud Keychain is not activated the bank accounts and transactions will still sync, however, they will be available for updating from the bank only on one device.
What is Money Pro Sync? Can I sync iPhone, iPad, Android, Mac and Windows devices?
Money Pro Sync is a cloud service that allows you to sync your data across different platforms (iPhone, iPad, Android, Mac, Windows) and also track expenses with other users. Money Pro Sync enables you to manage family expenses and serves a great tool for a small business finance management.
One user can sync up to 5 devices of different platforms and join up to 10 users for sharing the same profile.
The service is provided for a small monthly fee and is available with PLUS or GOLD subscriptions.
Hint!
If you have only Apple devices (iPhone, iPad, Mac) and do not want to share your data with others you can use iCloud sync, which is free.

Money Pro Sync: common settings
1. Go to More > Money Pro Account (for Mac: Main Menu > Money Pro > Preferences > Money Pro Account; for Windows: Main Menu > File > Preferences > Money Pro Account). Sign up with one of the following: Email, Facebook, Google.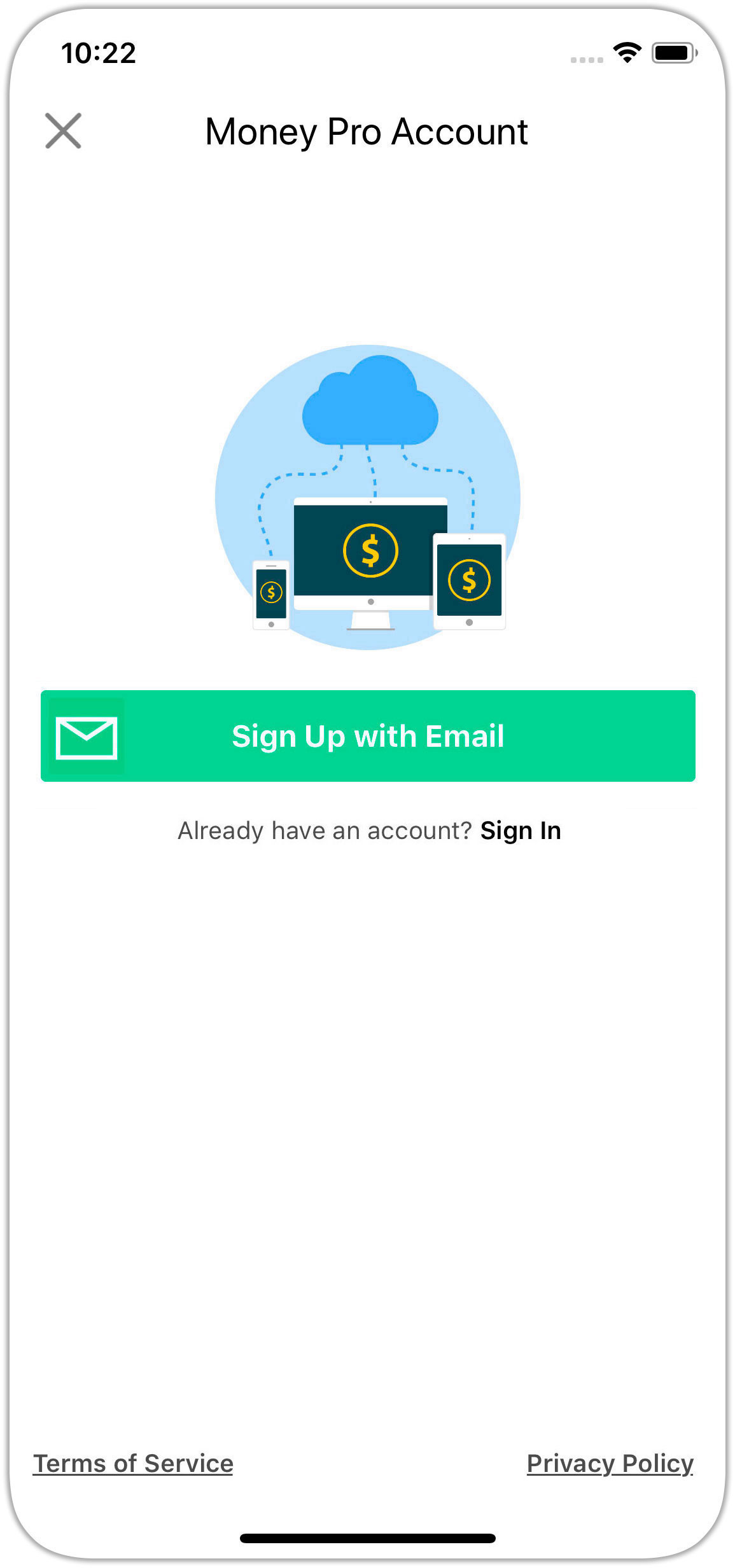 2. Turn Money Pro Sync on.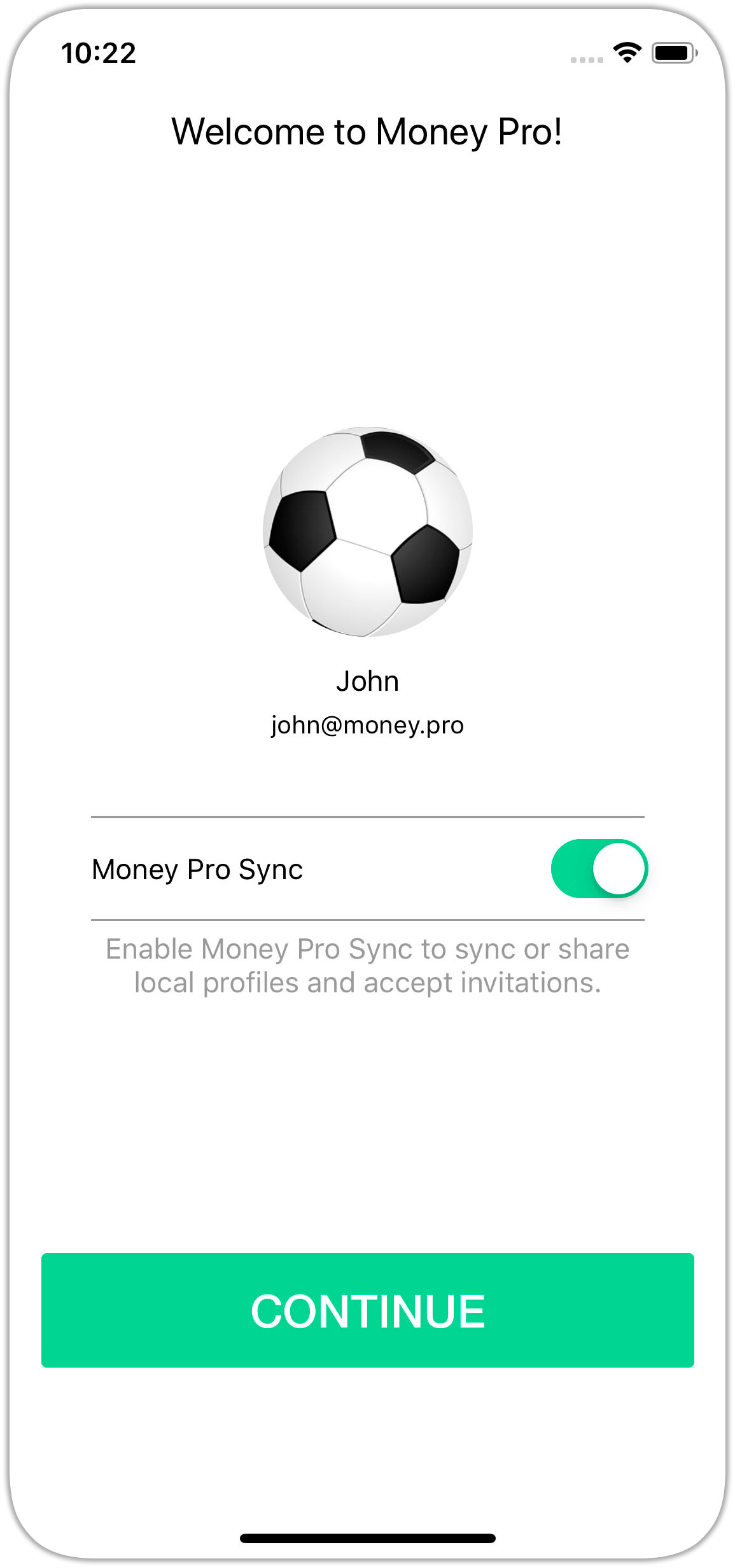 3. The "i" symbol signifies that you need to confirm your email address.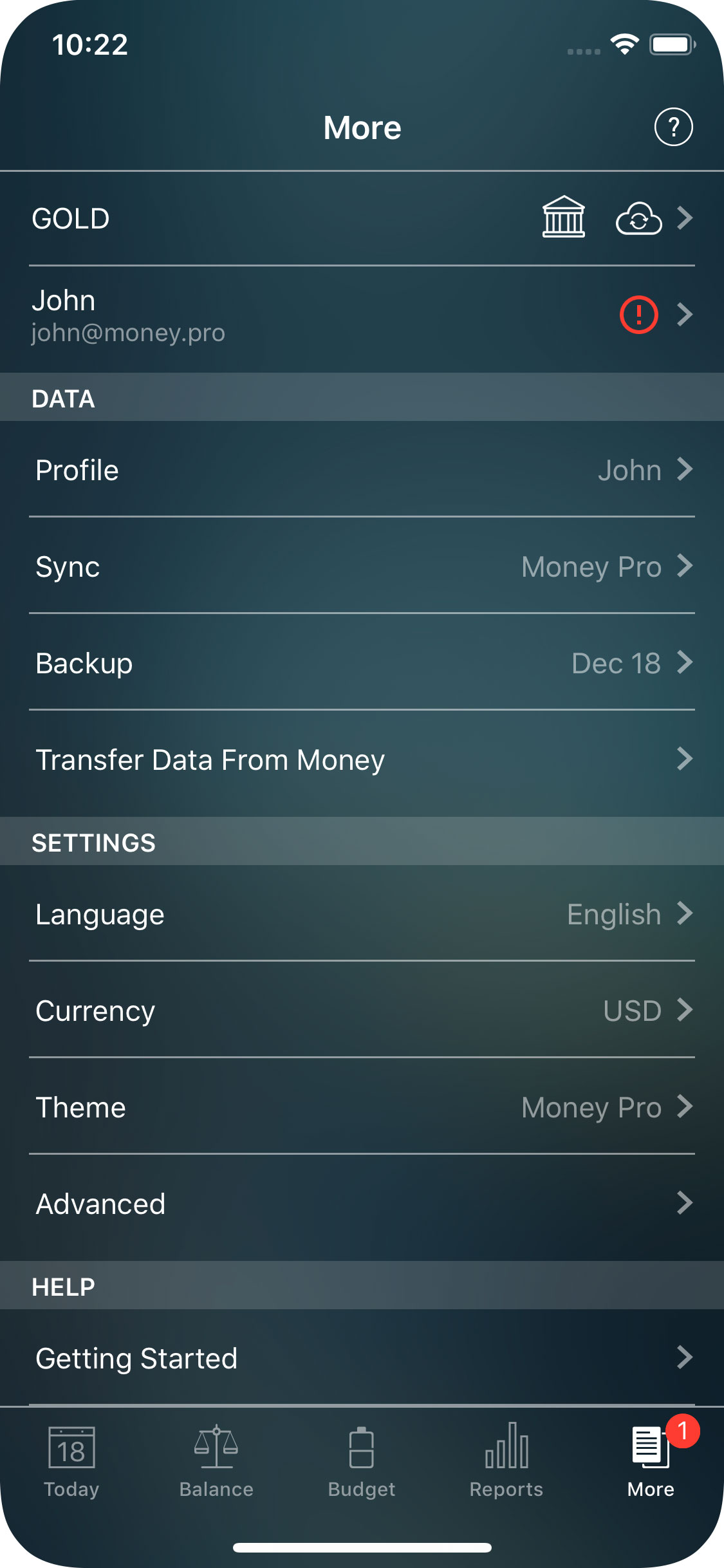 4. Enter the code to confirm your email address.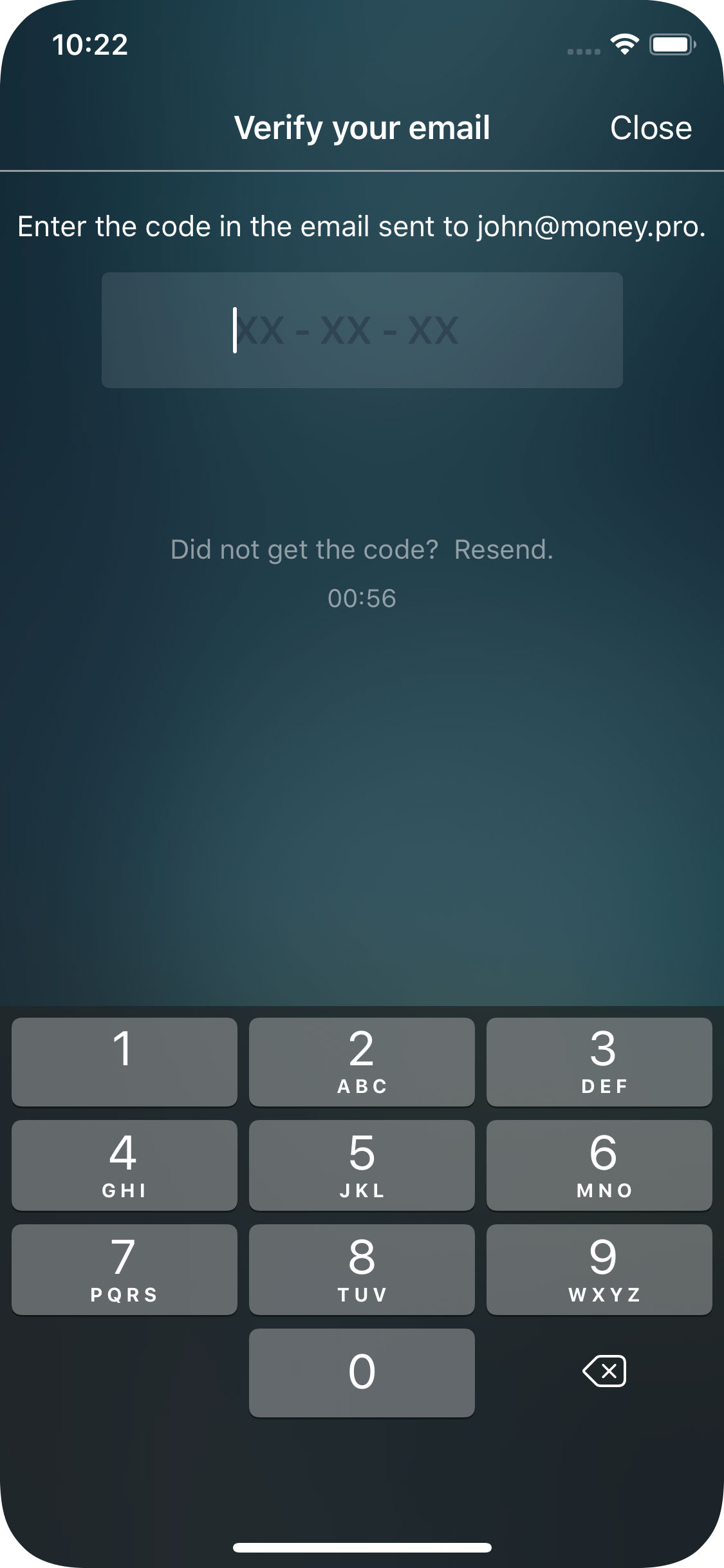 5. To set up another device (iPhone, iPad, Android, Mac, Windows), go to More > Money Pro Account and sign in to Money Pro Account.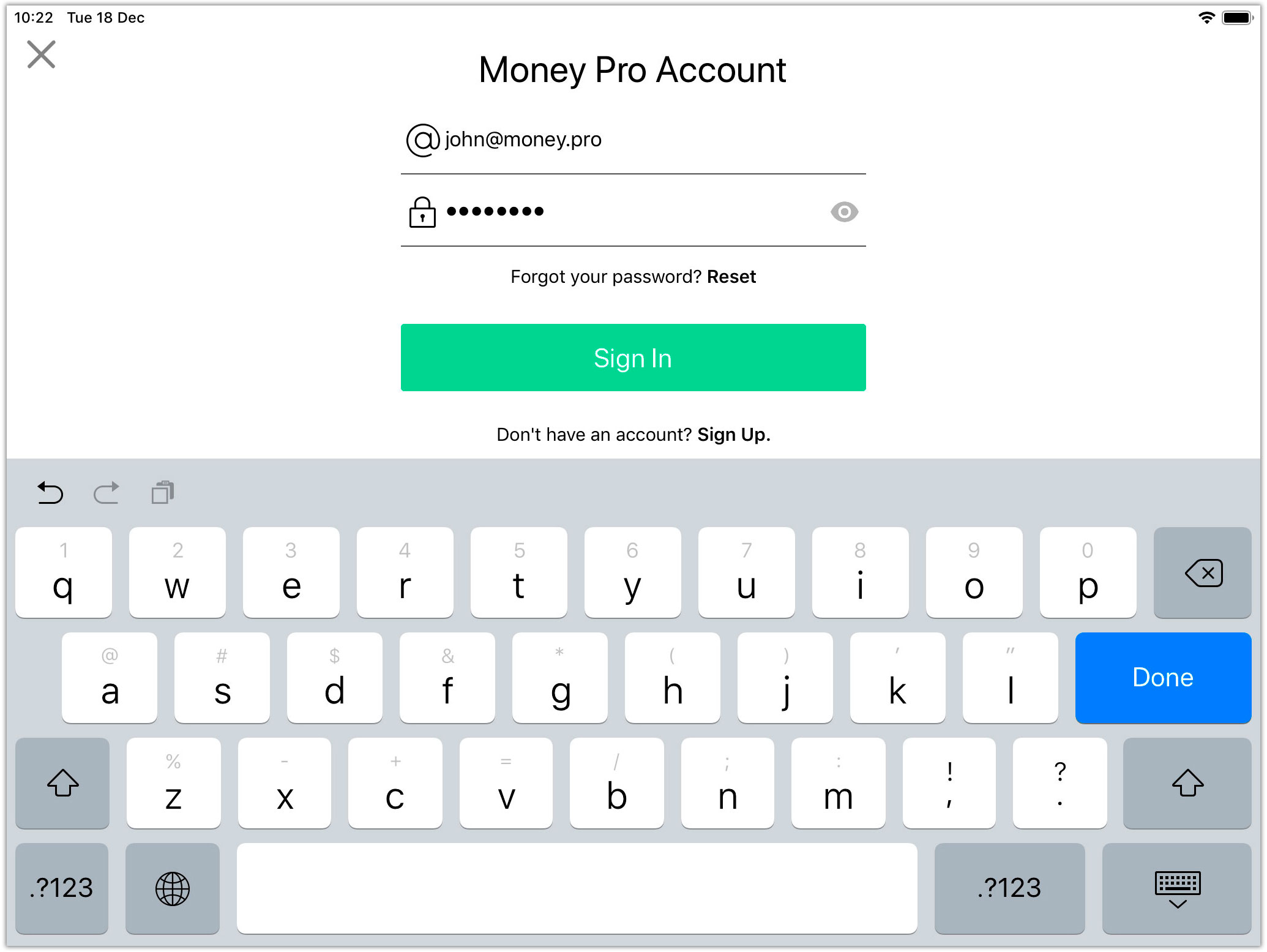 6. Turn Money Pro Sync on and tap "Continue". Now the data will be automatically synced across your devices.

Money Pro Sync: connecting other users
Profile's owner
1. Go to More > Sync (for Mac: Main Menu > Money Pro > Preferences > Sync; for Windows: Main Menu > File > Preferences > Sync) and tap Share next to the Profile's name (the one you want to share)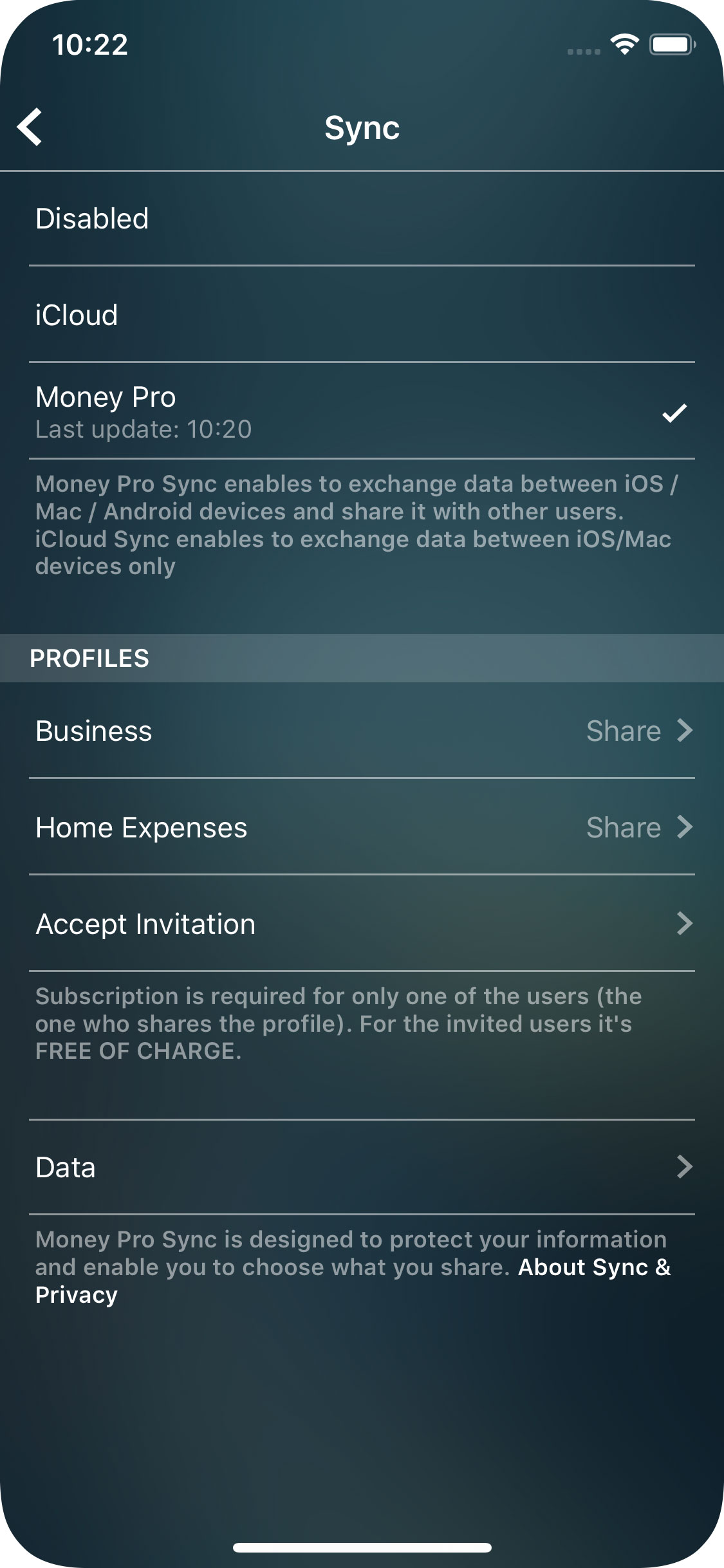 2. The app will generate and show on the screen QR-code. If the invited user cannot use the camera on his device or he is not near by at the moment, send him an invitation by any of the ways: SMS, email, Messenger or etc. If you want to share the profile with a few people, please send a separate invitation with the unique QR-code to each one of them.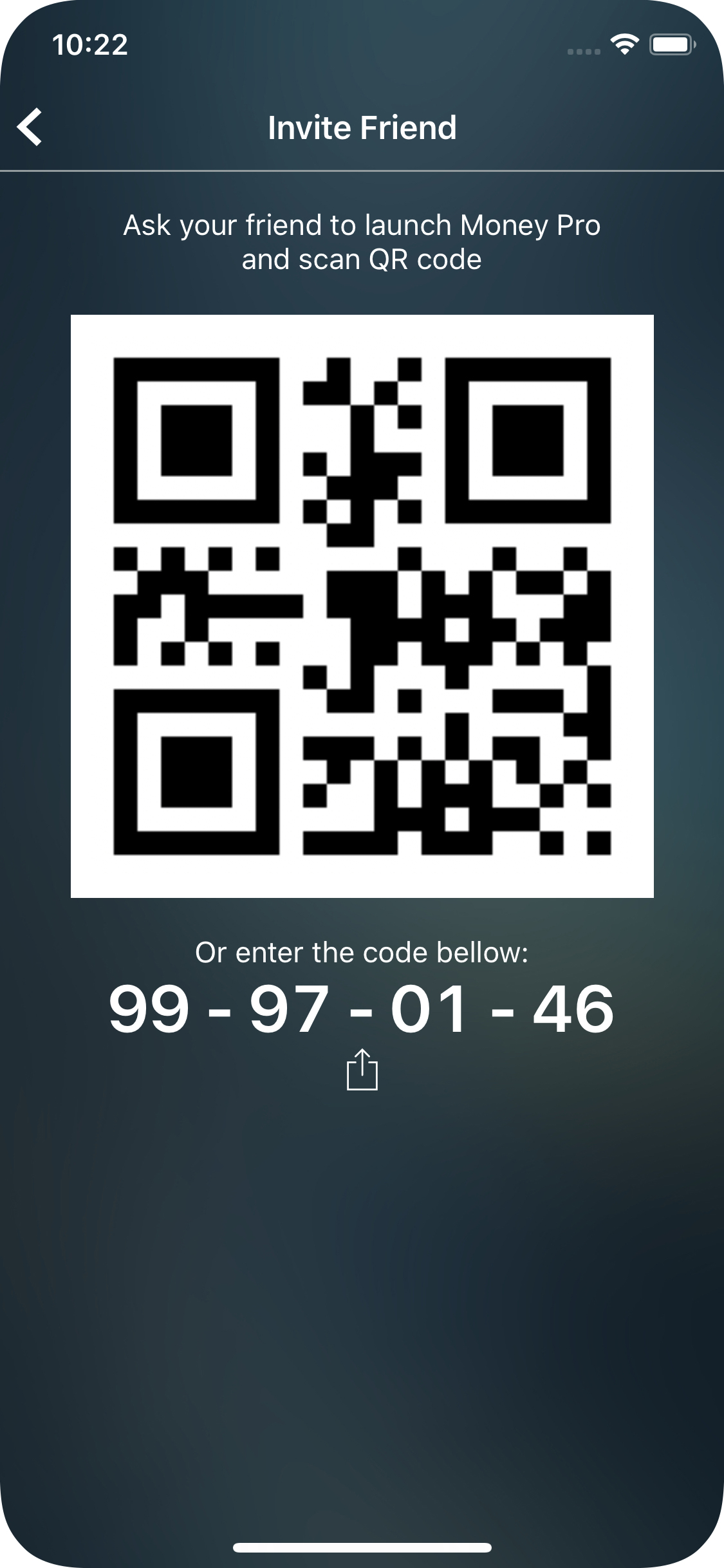 3. Profile's Owner can delete any of the users or add another one.

Invited user
1. Sign up for your own Money Pro Account (Money Pro Sync: common settings) and turn Money Pro Sync on.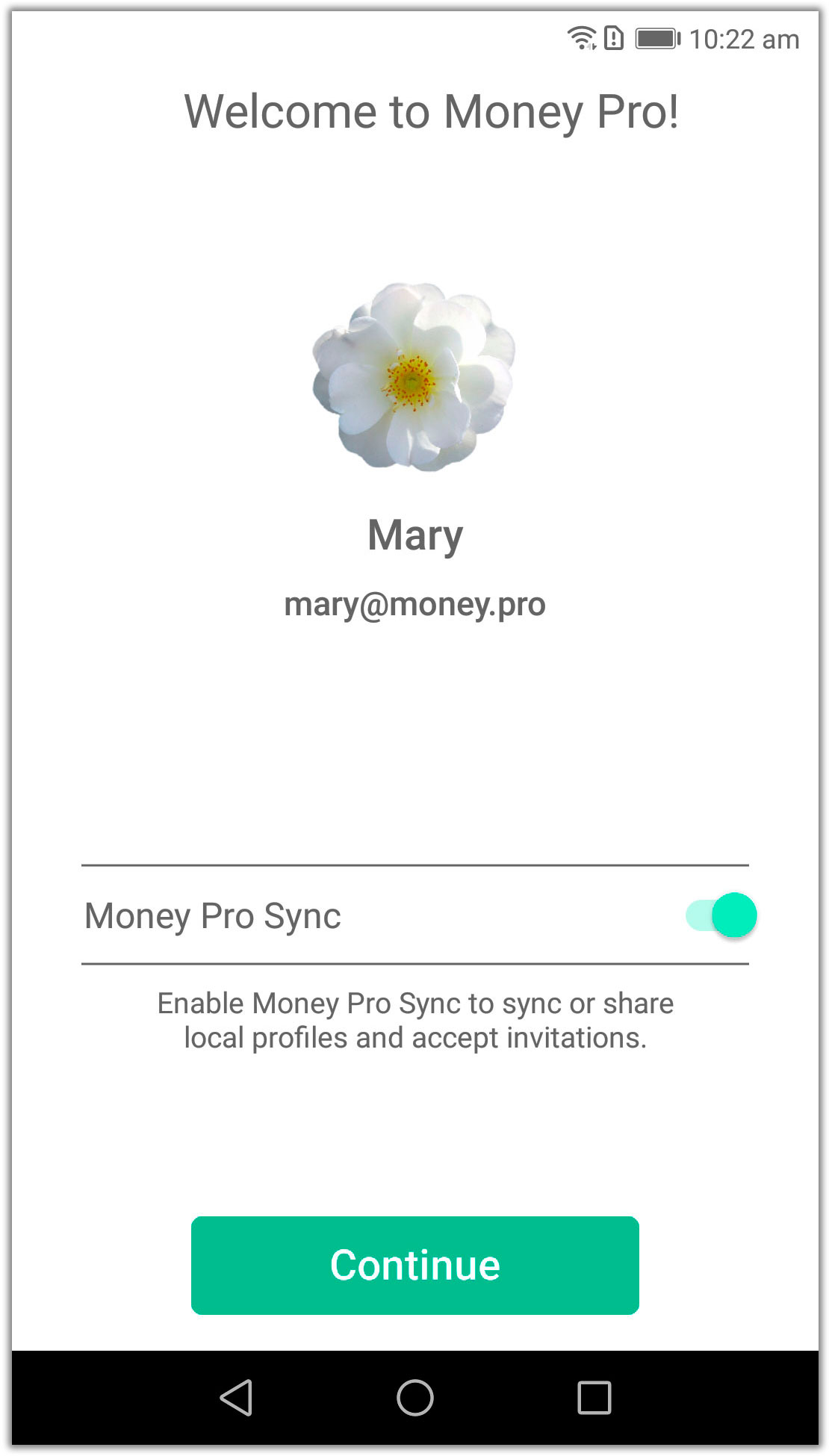 2. Go to More > Sync > Accept invitation. Scan QR-code (on the Profile's Owner device) with your camera and wait for a few seconds. Or enter the code provided.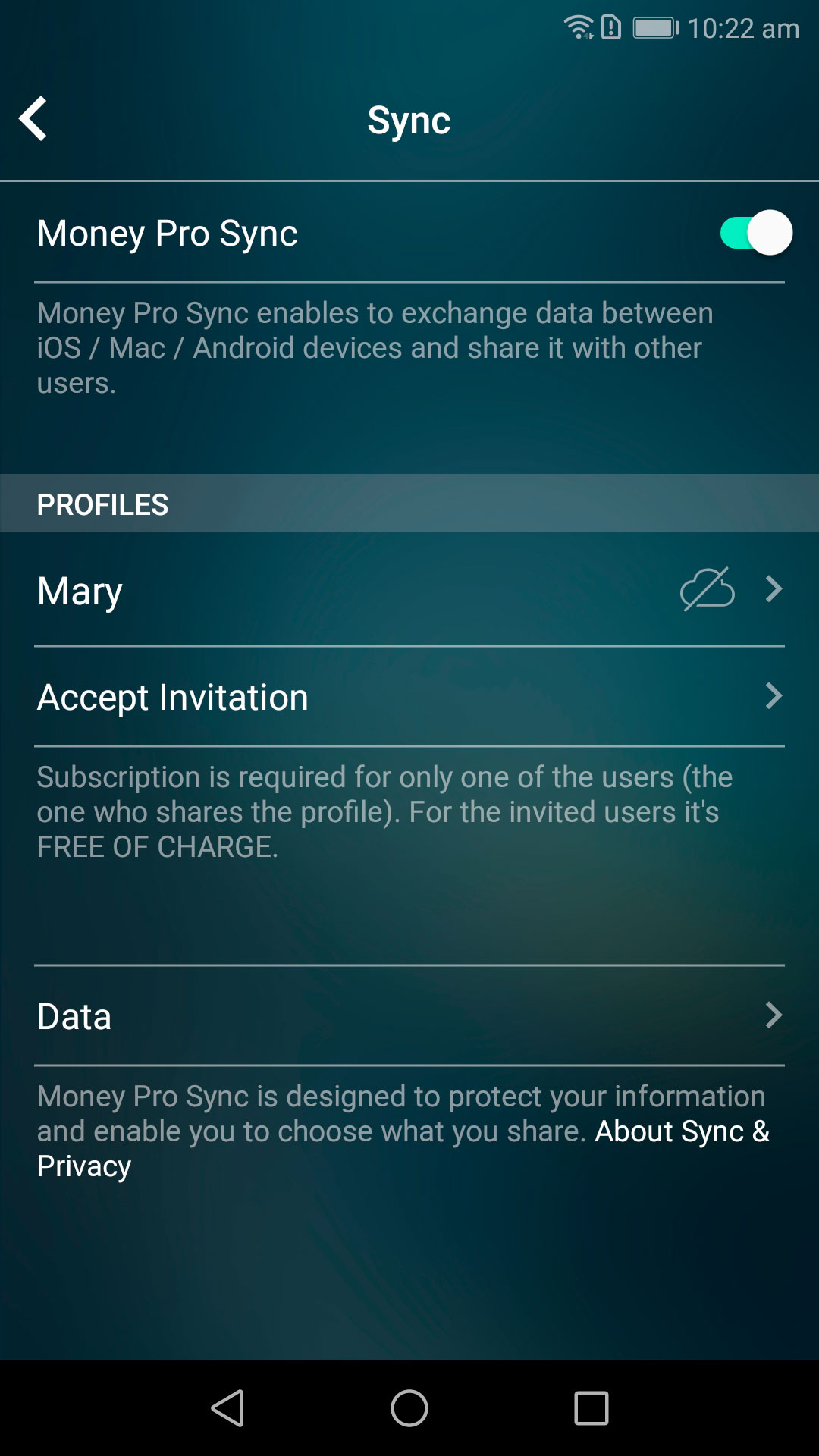 3. The shared profile will appear on the Sync form. From that moment it will be available in the section Profiles (More > Profile/Main menu > Profiles).

Money Pro Sync: fees
The service is provided for a small monthly fee and is available with subscriptions PLUS or GOLD. If there are a few users who want to exchange data between them the only user who has to subscribe is the Profile's owner. All the invited persons will use the service FOR FREE. The Profile's owner can subscribe for a month, 6 months or a year.
PLUS subscription includes Money Pro Sync service only. GOLD subscription provides two main services: Online Banking and Money Pro Sync.
If you are a GOLD subscriber and have already been using Online Banking please feel free to set up Money Pro Sync as well. You do not need any other subscriptions.
If you are a Family Sync subscriber you can easily switch to Money Pro Sync service and besides sharing your data with other users you can sync across iOS/Mac/Windows/Android devices. Money Pro Sync will be free for you till your subscription is expired.
iCloud sync remains free, and allows you to sync data between iOS and Mac devices.
What is two-factor authentication?
Two-factor authentication is an extra layer of security for your data. It's designed to ensure that you're the only person who can access your Money Pro Account, even if someone knows your password. After necessary settings, every time you sign in Money Pro will ask you to enter a security code in addition to your password.
How to make two-factor authentication settings?
You can set up two-factor authentication in Money Pro Account settings from any of your devices.
To make necessary settings, you will have to download a third-party Authenticator app (f.e. Google Authenticator, Duo Mobile or any other). An Authenticator app can be downloaded to any of your mobile devices. It's not necessary to have it on the same device you're currently using Money Pro on.
The detailed instructions can be found in the article Two-factor authentication in Money Pro User Guide.
What is the Difference between Lite and Full versions of Money Pro?
Lite version has an access to some features restricted. For instance, the report "Transactions" is not accessible. You will not be able to check the list of transactions attached to a certain account or budget. The calendar on the tab "Today" is locked, to view your transactions history you will need to upgrade to Full version of Money Pro.
Here are some of the features you get when you upgrade to Premium:
Detailed reports;
Lists of transactions for each account separately;
Calendar mode;
Apple Watch app;
Detailed notifications;
Family Cloud Sync (a monthly subscription service that allows users to share a profile with other users);
Visual themes;
Adding transactions from the Today widget;
Regular updates; and many others.
Can I transfer data from Money to Money Pro?
You can transfer data from Money Pro Lite, Money, Checkbook HD or Bills to Money Pro.
Please make sure that you have installed Money Pro and updated the app to the latest version.
As soon as you open the app you will be asked if you want to transfer your old data (from other apps) to Money Pro. Your data will be copied immediately after confirmation.
If for some reason you chose not to transfer your data at startup, you can do it later from the Export menu in Money, Checkbook HD, Bills or Budgets, or by selecting "Transfer Data to Money Pro" in the "More" tab in Money Pro Lite.
You can also transfer your data by copying a backup file from Money and Money Pro Lite to Money Pro via iTunes.
How do I set up a password in Money Pro?
A password can be set for each profile separately.To make necessary settings, go to More > Profile, tap the button "i" next to Profile's name and tap "Set Password". In the opened form set the password for the selected profile and its confirmation.
On the same form you can enable the feature "Allow Password Reset". In case you forget the password, you'll be able to reset it by entering the date, the amount and the account name of one of your past transactions. If the data is entered correctly, the password will be cancelled.
Please note that Money Pro for iOS will not ask for password within 10 seconds after closing the app.
Can I use Touch ID (Face ID) to enter Money Pro?
Touch ID is Apple's fingerprint authentication technology. It's a convenient and highly secure way to access your phone.
You may unlock Money Pro via Touch ID instead of entering a passcode manually. To access data via Touch ID put your finger on the Home button when the app launches. You can manually enter a passcode as well.
To turn on Touch ID in Money Pro go to More => Profile => and tap "i" next to the profile name. Set up a passcode first and tick the "Use touch ID" box as soon as it unlocks.
Touch ID in Money Pro is supported on all devices starting with iPhone 5s or iPad air 2 (iPad mini 3), some MacBook Pros. To set up Touch ID on a MacBook go to Main Menu > Profiles, and click the " i " icon next to the profile name.
Can I import transaction details from my bank?
Yes, Money Pro supports import of OFX and CSV files, provided by your bank. You can use the "Open In" feature to import a file into Money Pro from a different app (Dropbox, Mail app, etc.) or use iTunes.
During import you will be offered to assign categories to transactions. Tap the question mark icon next to the transaction and choose the right category. From now on, Money Pro will assign categories based on your choice.
CSV
When importing a CSV file you have to specify the type of information for each column individually, if the app hasn't determined it automatically.
Start by assigning the data type to each column: "Category", "Amount", "Amount received", "Date", "Account", "Account (to)", "Description", "Agent", "Currency", "Check #", "Class", "Time". Use the button "Next" in the upper right corner to go to the next column.
The transaction type (Income/Expense) will be defined automatically based on the positive or negative value of a transaction. Positive amounts will be identified as Income transactions while negative - as Expenses.
Money Pro allows to import "Money Transfer" transactions, therefore the app has "Account" and "Account (to)", "Amount" and "Amount received" data types.
Account: the account you are transferring money from.
Account (to): the account you are transferring money to.
Amount: the amount you transfer from the first account.
Amount received: the amount received by the account you are transferring money to.
In case you select "Account" and "Account (to)", a transaction type will be automatically defined as "Money Transfer".
Please, keep in mind that it is not obligatory to assign value for each column, tap "Ignore column" to skip the column you don't want to import.
If necessary, the app will ask whether the accounts and categories in the file match the ones in the app. For example, if the CSV file has a category named "Food", you can match it to an existing category "Groceries", or create a new one.
Please note, that the app automatically creates a backup file before importing a CSV file. This will allow you to go back to your original data if you decide to start the import over with different parameters.
Can I synchronize data between my devices? Is it free?
It is possible to sync data between devices sharing the same iCloud ID at no additional cost.
iCloud Sync automatically synchronizes data between all your devices, as well as downloads your data after the app was reinstalled or installed to a new device. For the iCloud Sync to work, your devices have to use the same iCloud ID.
Please note that Money Pro does not support data synchronization between the free and the full versions of the app (the full version will receive data from the free version, but the free version will not receive data from the full version).
iCloud Sync doesn't work, what should I do?
In case sync does not work or data is transferred partially, restart your device. In most cases this solves the issue. However, if it doesn't help, try the tips listed below.
If your devices fail to sync data between each other, try these steps: - Make sure that you have the latest version of the app on all your devices. - Restart the app. - Make sure that there is free iCloud storage and the Internet connection is stable.
If your data is transferred partially, try this: - Create a backup file on one of your devices that has the most accurate (full) data. - Restore from this backup file on the SAME device. - Wait for a while.
If none of the steps worked, please contact us at support@ibearsoft.com and we'll do our best to help you.
How do I print or export reports?
You can print or export your "Transactions" report (go to Reports and select "Transactions" in the top menu). Tap/click the funnel sign to select the export type (CSV, PDF, QIF). Tap/click the export button in the upper right corner to select the export method (Print, Email, iTunes).
Here's what you need to do to copy the file to your computer through iTunes.
Connect your iOS device to your computer.
Open iTunes.
Click the device icon.
Click "Apps"
Scroll down until you see "File sharing"
Select Money Pro from the list on the left and in the field on the right you will see all the files the app works with.
Select and copy the file to you computer.
For a macOS device open the Transactions report and click the funnel sign to set a filter and choose the export file type. To export the file click the "Share" button or go to File > Export > and select the export type. You will be offered to choose where to save the file.
How can I keep track of personal loans?
If you want to keep record of the money you lend or owe someone, you can use Assets and Liabilities.
When you lend someone money – create an asset. Assets are normally used for objects of value that you possess, like a car or a house. You can't use an asset as a payment account (Income/Expense transactions), but you can edit its value or sell/purchase it. Use the type of transaction "Asset Purchase" when you lend money from an existing payment account and "Asset Sale" when you get the money back.
Similarly, when you borrow money from somebody, you can create a liability. When you pay it back, you can register the transaction as a "Discharge of Liability" to pay from an existing payment account or "Liability Acquisition" when you add borrowed money to one of your accounts.
You can create assets or liabilities without influencing your payment accounts. To do that, go to the Balance tab and tap "Edit" > "Add". You will be offered to create an asset or a liability.
You can use the transaction "Money Transfer" to move money between you payment accounts and assets/liabilities.
The currency of transactions is different from the default currency. What should I do?
All transactions are recorded in the currency of accounts to which they are assigned. For instance, if the currency of your account is "USD", all transactions attached to this account will be recorded in "USD". However, the budget and all the reports are displayed in the default currency.
To change the default currency go to More > Currency and tap the "i" next to the name of the currency you want to select. Tick the box "Set as Default Currency" and tap "Save".
To change the currency of an account, go to the Balance tab, tap Edit and select the account. Tap the Currency field and select the currency from the list.
When creating transactions or planning your budget, you can use the built-in currency converter. Tap the currency button and select the currency you would like to convert from. Then enter the amount in the selected currency. The amount will be converted automatically to the currency of the account chosen for the transaction.
How can I delete a profile?
Go to More > Profile (Main Menu > Profiles) to edit your profiles. Tap the "i" next to the profile name to edit profile information. In this form you can change the name of the profile, set a password/Touch ID, etc.
If you want to delete a profile, set a different profile as active. When another profile is set as active, tap the "i" next to the name of the profile you want to delete, and in the next menu you will see the "Delete" button. Deleting your profile is irreversible.
I see "Repeat transactions" in the Today tab. What are they, and can I turn them off?
The "Repeat transactions" feature is the app's way to make data entry easier for you. It analyses the transactions you add and suggest similar ones based on that – you can use them to save time you'd spend entering transactions by hand.
If you don't like this feature, you can go to More > Advanced > Repeat Transactions (Main menu > Preferences > Repeat Transactions) transactions and turn it off.
How do I delete an account without losing its transactions?
In the app there's an option to hide accounts from the balance tab without erasing the transaction history.
Go to the Balance tab and tap "Edit";
Select the account you want to hide;
Click the red "Delete" button;
A new window will appear, offering you to Cancel, Hide and Delete. Click "Hide".
The account will no longer be visible on the list, but the transactions will remain intact. You can unhide the account if you want to (Edit > Select account > Restore).
If you choose "Delete", you account will be deleted together with its transaction history.
Does Money Pro create backup files automatically?
Backup files allow you to restore your data if something went wrong and you want to go back to the way things were previously.
Backup files are created by the app: - During CSV import; - When you turn on iCloud Sync; - When you restore from a backup on another device; - During every app update; - In some other cases.
Backup files are NOT created automatically over periods of time (every month, every week, etc.).
You can create a backup file manually: on iOS go to More > Backup and tap "Add"; on macOS go to File > Backup and click "Add".
Backup files can be copied from your iOS device to your computer using iTunes File Sharing; right-click a backup file on macOS and choose "Show in Finder" to access the file.
A backup file, created in Money Pro for iOS can be opened in Money Pro for macOS and vice versa.
If you create and open backup file on a device, the data from this device will be pushed to all devices, connected to this one via iCloud Sync.
Why can't I use the "Income" transaction type with assets?
In Money Pro, Assets and Liabilities are not considered means of payment, which is why you can not use Income and Expense transactions with them. You can change the value of an asset by manually entering the new sum.
You can also increase asset value by using the transaction type "Asset Purchase". This will allow you to specify a payment account, at the expense of which the asset was purchased (or increased value). If you select a category while adding such transaction, it will be indicated in your budget and reports.
If you create an income to increase the value of an asset, and then receive income selling that asset, the same money will be recorded as an income twice, which will make your financial data inaccurate.
Why do my planned expenses not reflect in my budget?
While creating a budget for a category, you've already included potential expenses into it. That's why planned transactions don't influence the articles of the budget – to keep the income and expense sums from being reflected in the budget twice. However, planned transactions are taken into account in the report "Projected Balance", which is convenient if you are monitoring the balance of your accounts.
How do I get my budget view to begin on a different date?
In order to set the budget start date you need to open the Budget tab then click the menu at the top center of the screen. In the new window tap the line that displays a time bracket. Now you will see the next menu where you can set the beginning date of the budget period (for example: from 1 till 31, from 2 till 1, etc.).
I bought Money Pro for Mac. Do I have to pay for Money Pro for iOS?
Yes, the macOS and iOS apps are sold separately. The iOS app can be used on both iPhone and iPad.
Why is a negative sum in a transaction/account displayed as positive?
For some regions the app will use round brackets " () " to indicate a negative sum. That means, "-100" will be displayed as "(100)".
Also note that regular payment accounts and credit card accounts work differently – a credit card account shows your current debt to the bank. This is why income transactions assigned to a credit card account decrease the amount of debt, and expenses increase it.