Track your financial goals with Money Pro
By Andy on Thursday, Dec 31, 2020
"Alice: Would you tell me, please, which way I ought to go from here?
The Cheshire Cat: That depends a good deal on where you want to get to…"
― Lewis Carroll, Alice in Wonderland
GOALS is the new feature we are unveiling today. It helps to keep the focus on what matters for you the most.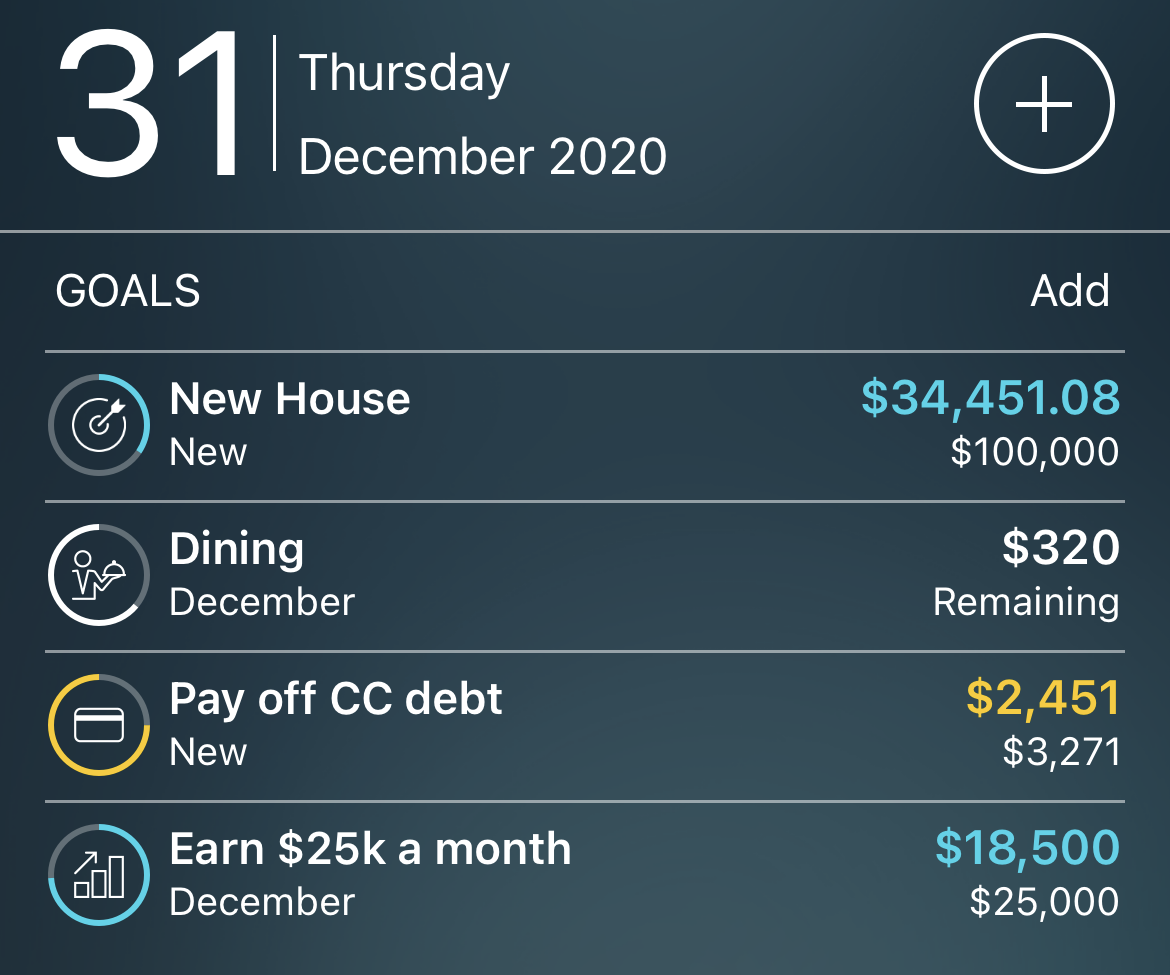 How it works
The new feature helps you set and track your financial goals. Have all of your goals displayed on the "Today" tab. You create a goal by tapping "add." All you need to do is to select the appropriate type for the goal you have in mind. There are four types available: save money, pay off debt, reduce expenses, increase income.
Save money
Imagine you need to save a specific amount of money to cover some expense:
― downpayment for a house
― buying a new car
― new laptop
― etc.
You name your goal (1), set an amount (2), and select an account for your savings (3).
If you want to save for a new car, you need to designate one of your accounts to hold actual money for the purchase. If you have one you use for multiple purposes, it will be easy to spend your money on something else. That is why we advise you to open a separate account in your bank and keep your money for a specific purpose (GOAL) on that account.
Of course, you may use several banks and save money for a single goal in all of them. You may select multiple accounts for a single purpose. The amounts will add up toward your goal.
If the amount you are trying to save is relatively small, you can keep your savings in some physical place like a jar. Additionally, you will need to create a separate account on the "Balance" tab to reflect the amount you keep in that jar.
Pay off debt
Choose the debt you want to pay off or combine multiple debt accounts in one goal. There is nothing else you need to do. You keep track of your mortgage payments as usual, and the indicator will reflect your progress.
Below are a few examples of what the goals might be:
― pay off all credit card debt
― pay off your mortgage
― pay off all debt
Of course, it is desirable to eliminate all your debt at once, but it might be challenging. We advise you to start small and set achievable goals. This way, you will see your progress and stay motivated on your path to financial freedom.
Reduce expenses
It is a simple way to allocate a spending limit for all of your categories at once. In this case, you enter the amount you plan to spend (1), set a time period (2), and select all categories (3). You can keep track of the remaining balance for the period right in front of your eyes on the "Today" tab without the need to create a more sophisticated budget on the "Budget" tab.
Additionally, this type of goal works great when you need to track or pay closer attention to only a couple of categories. In my case, most of my expenses remain the same, but I tend to spend extra on Groceries, Taxi, and Presents. Now I can keep spending goals for those categories on the "Today" tab.
Increase income
This goal works similar to "Reduce expenses"—this time, you set the desired income amount per category for the period.
Why you need to set goals in Money Pro
Goals help you get simple, valuable indicators in front of your eyes without any extra effort. Just keep track of your transactions, and the goals will show your progress automatically.
Every time you open the app, you will see your goals listed. Keep your goals list short, and it will not clutter your screen. It will keep you focused on those goals. You will want to spend every spare dollar you have on those goals.
Set goals for 2021!
Today is the last day of 2020. It has been a challenging year for all of us. It is time to set goals for 2021 and start moving forward! We wish you a Happy New Year!
iBear team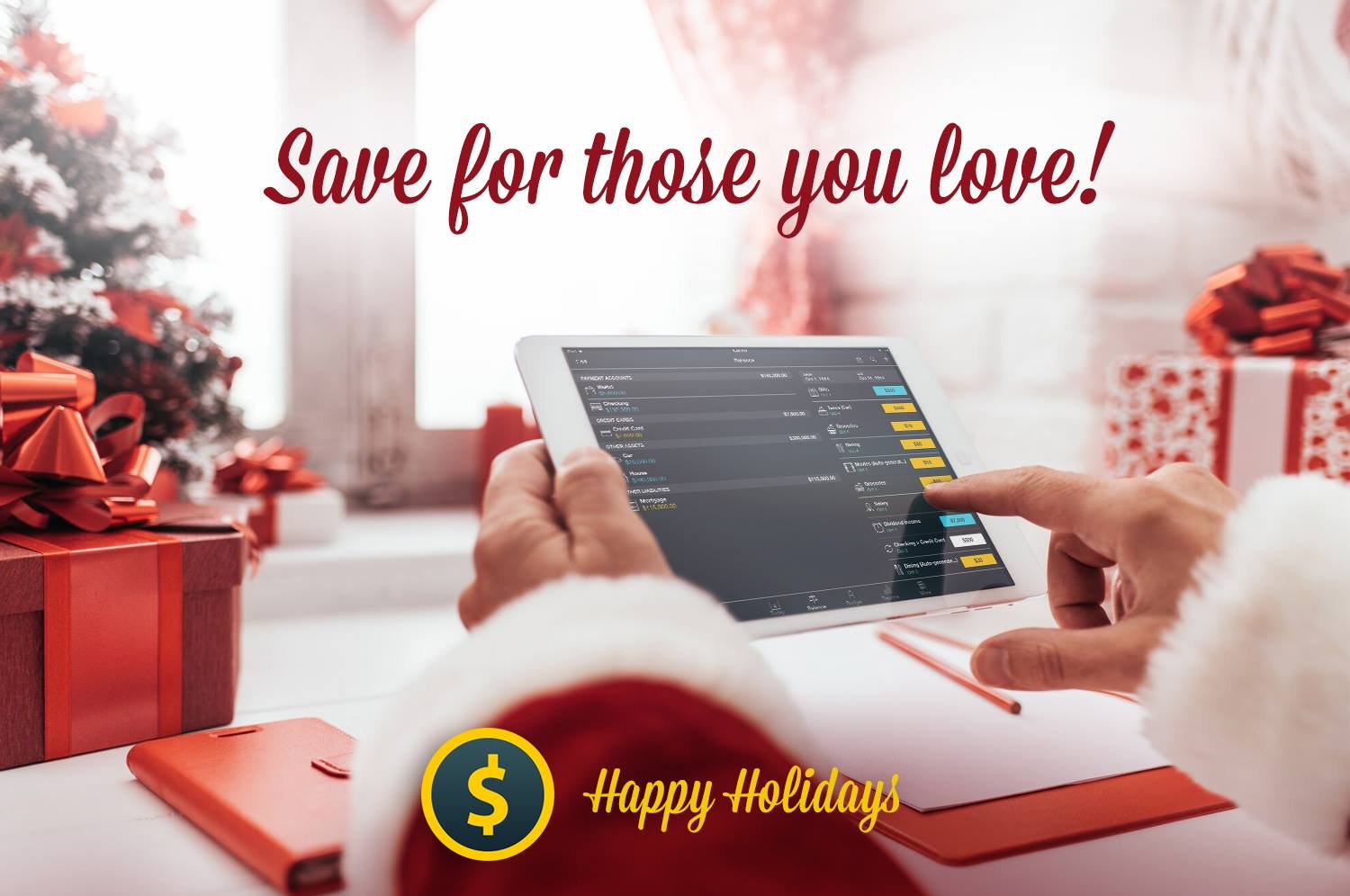 Make sure to follow us on Facebook, Twitter, and Instagram to stay updated.